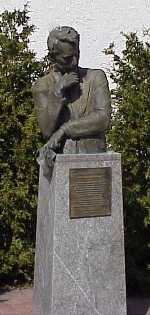 Claude Shannon
Centennial Celebration

April 30, 2016


Click Here for Details
and Information about Claude Shannon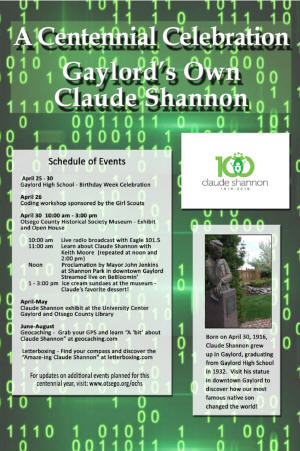 The statue of Claude Shannon in downtown Gaylord
is the first of six statues honoring this remarkable genius
Inscription:
Claude Elwood Shannon
Father of Information Theory
Electrical engineer, mathematician, and native
son of Gaylord. His creation of information theory,
the mathematical theory of communication,
in the 1940s and 1950s inspired the revolutionary
advances in digital communications and
information storage that have
shaped the modern world.
This statue was donated by the
Information Theory Society of the Institute of
Electrical and Electronics Engineers,
whose members follow gratefully in his footsteps.
Dedicated October 6, 2000
Eugene Daub, Sculptor





"Waters, Michigan
The Town With the Bottle Fence"

by
Phil Alexander



$15
Proceeds will benefit the
OCHS Endowment Fund
"Early Times of Otsego County, Michigan"
by Bill Granlund



click here to view the


Table of Contents


$20
Proceeds will benefit the
Otsego County Historical Society