Gaylord is the largest city in Otsego County and the County Seat. It was settled in 1873 when the Jackson, Lansing, and Saginaw Railroad was extended north from Otsego Lake.
The village was named Barnes in honor of Orlando .M. Barnes of Lansing, secretary of the railroad company. The name was soon changed to Gaylord in honor of Augustine Smith Gaylord, an attorney for the railroad.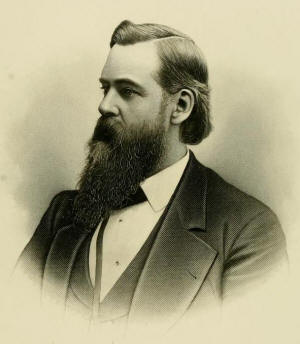 The original plat of the village is dated October 30, 1874 and was recorded December 2, 1874. That part of the plat north of Main Street was owned by the railroad, the part lying south was owned by Orlando M. Barnes. In 1876, the county seat moved to Gaylord from Otsego Lake Village. On November 10, 1877 William F. Parmater, a township supervisor, was appointed to select a site for the Court House in Gaylord. He and George Smith decided to build on the land given by O.M. Barnes and his wife - lots 15, 16, Augustine S. Gaylord
17, and 18 of Block 10.
Gaylord was incorporated as a village in 1881. The first Council meeting was held March 18, 1881 with Chester C. Mitchell as presiding officer. It remained a village until 1922 when by a vote of 114 for to 93 against, it became a fourth class city. John Hamilton, village president at the time, became the first mayor in April of 1922.
Gaylord Illustrated 1905
Photo book of community leaders, businesses, homes, buildings



1905 Otsego County Herald - Souvenir Edition

Similar to the Gaylord Illustrated booklet with the addition of written articles



Gaylord Centennial Newspaper
1881-1981
Individual pages

Gaylord Centennial 1881-1981
Gaylord Herald Times
October 1, 1981
56 pages 27MB
Click here for photos of downtown Gaylord shown block by block
Click here for post cards of Gaylord and Otsego County
-- Jan White Collection
Otsego County Centennial Book
Pages 15 16 17 18 19 20 21