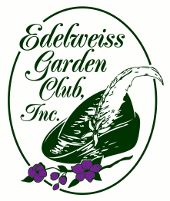 Edelweiss Garden Club, Inc.
When we tug at a single thing in nature, we find it attached to the rest of the world - John Muir
Membership Information
Active Membership Requirements are:

Participate in Edelweiss Garden Club projects, activities, and programs.

Assist in planting and attend scheduled maintenance in assigned Garden.

Serve as Officer, Chair, or be a member of at least one Standing committee or Social Event.

Attend at least five (5) meetings per year.

Prospective members may attend up to three (3) meetings. A person may apply for membership at any time and will become a member upon being mentored and paying dues.

Annual dues: $16.00 due June 1st of each year.

The mission of Edelweiss Garden Club is to maintain community gardens, provide opportunities to improve gardening knowledge and encourage a fellowship of gardeners.