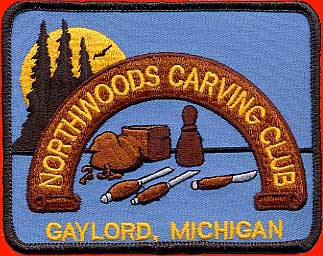 THE NORTH WOODS CARVING CLUB
OF
GAYLORD MICHIGAN
presents its
SIXTH ANNUAL
"ART OF THE CARVER"
A WOODCARVING COMPETITION, EXHIBITION AND SALES
The members of the North Woods Carving Club invite you to its sixth annual woodcarving show on Saturday, April 13, 2002 at Gaylord High School, 90 Livingston Blvd., Gaylord, MI.
Exhibitors may enter the school at 7:00 a.m. to set up their displays. Judging will begin promptly at 9:00 a.m. The public may enter at 10:00 a.m. The show will close at 4:00 p.m.
Free coffee and donuts will be available to exhibitors from 8:00 a.m. to 9:00 a.m. A food and beverage concession will be operated during the hours of the show.
We hope you will join us for our sixth woodcarving show. We encourage you to carve during the show to demonstrate your art to the public. Come and be part of a fun filled day.