M-32 & Old-27/I-75 Business Loop
Corridor Study

Welcome to the online version of the Corridor Study. The chapters in the study contain a large amount of data and many image files and may take a considerable amount of time to load. Please be patient.
To read through the study, click the 'next page' link at the bottom of each page.
If you would like to skip to a specific chapter click here to go to the Table of Contents.
To download the PDF files of the study, click here.
A hardcopy of the study is also available at the front desk of the Otsego County Library.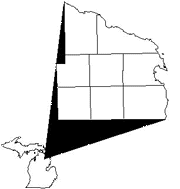 Northeast Michigan Council of Governments

121 East Mitchell Street

P. O. Box 457

Gaylord, Michigan 49734

(989) 732-3551