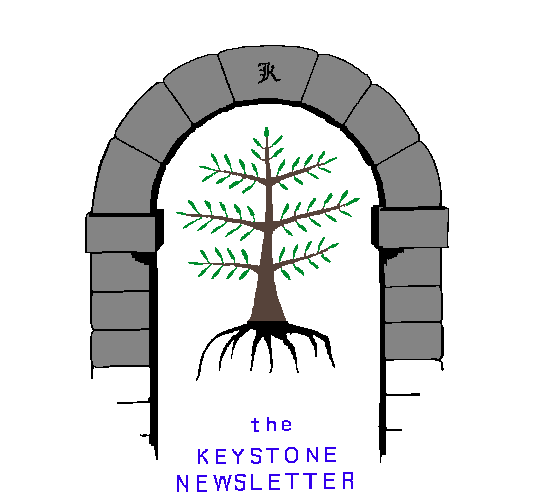 Gaylord Fact Finders Genealogical Society
P.O. Box 1524
Gaylord, Michigan 49734
Volume 14, Number 2 October, 2000
Officers for 1999-2000:
Committees:
President
Donna Marrs
Obituaries/Vital Records
Donna Marrs
Vice President
Patricia Moehring
Marleah Muzyl
Recording Secretary
Mary "Dell" Krueger
Membership
Patricia Moehring
Corresp. Secretary
Donna Marrs
Social
Patricia Moehring
Treasurer
Jackie Skinner
Newsletter
Donna Marrs
Patricia Moehring
Past-President
Uilani Clifton
Programs
Inter-Society Liaison
Donna Marrs
These officers and Past-President comprise our executive board.
MGC Delegates
Donna Marrs
Marleah Muzyl
Publications
Sue Giessel
Historian
Pat Moehring
---
Publisher of "The Keystone" is the Gaylord Fact Finders Genealogical Society, a non-profit organization. Publication is in January, April, July, and October.
Membership dues are $10.00 per individual (or $ 12.00 per family), and are due by the May meeting each year. If the dues are not received, that member will not receive the July issue of "The Keystone." Regular meetings are held at 7:00 p.m. on the third Wednesday of each month (August - November, and March - June) at the Otsego County Historical Museum, 320 W. Main, Gaylord. Correspondence should be sent to the address shown at the top.
This issue includes a some organization addresses, a short family history, some obsolete occupations, "brick wall" suggestions, Criminal record information, some Michigan "Firsts", and tombstone dating.
---
Library Corner
The Researcher's Guide to American Genealogy Call 929.1 Gre
by Val D. Greenwood
"A definitive textbook and an all-purpose reference, this new work constitutes the most important advance in genealogy since the beginning of vital records. It is a detailed examination of the various types of records that can be found in specific areas and in specific time periods; it identifies and classifies the records, groups them in convenient tables and charts, gives their location, explains their uses, and evaluates each of them in the context of the research process. Whether ship passenger lists or census records or marriage registers are under discussion, the author interprets the background, gives an account of the original records, analyzing their uses, and instructs the genealogists in the basic principles governing research in that particular class of record.
(taken from the book jacket)
---
Some Organization Addressees:
Railroad Pension Application Records - Railroad Retirement Board, 844 Rust St. Chicago, Illinois 60611
American Legion Membership Records - American Legion Box 1055 700 N. Pennsylvania St. Indianapolis, Indiana 46204
World War I Civilian Draft Registration - http://userdb.rootsweb.com/ww1/draft/
---
A short family history
"Always Check Your Sources!"
by Sue Giessel
"In my family, for as long as I can remember, my Great Great Grand Father was thought to be buried at Andersonville Prison in Georgia at the end of the Civil War. Many plans by both my parents and my husband and myself, were to stop and visit the cemetery there. But as good genealogists can tell you, only believe half of the story, and document everything you can.
In doing research on Charles Fone of the 100th Regiment, Company H., New York Volunteers, in the Civil War, I was able to get all information from the National Archives in Washington, (Pension Files and Military Records). I was able to piece together from the pension files that he in fact did spend time in Andersonville. The story goes as such - He was taken prisoner at the Battle of Drury's Bluff, May 16, 1864, was taken to Libby Prison for one week and then shipped to Andersonville, GA. In September, 1864, he was sent to Charleston, South Carolina being very sick from starvation and sent to Florence, S. Carolina, where it was stated that on or about October 12, 1864, he was taken out dead by the Ward Master.
" I wrote the Florence National Cemetery in S. Carolina, and received a most disheartening letter, stating that because he was a prisoner of way, they did not keep any records of the dead. I was told that they were buried in long trenches with posts on either end of the rows, and maybe he was in one of them.
"I guess it is difficult to comprehend that this was a war in our own country. Prisoner of war was not even in my mind as I did my research. This sure puts a different twist on the story.
"We will go to Florence some day and try to find out more on the burial site."
(Editor's Note - these short stories are being contributed by members of our genealogical society for publication here.)
---
Some interesting web-sites:
England, Ireland, Scotland, and/or Wales brand new service: http://www.bigfamily.co.uk
To order birth, marriage and death certificates directly, or for local research in England, Ireland, Scotland, and/or Wales: http://www.bigfamily.co.uk/ResReq.htm
Civil War Soldiers and Sailors System: http://www.itd.nps.gov/cwss
---
He did WHAT for a living? How many of the following occupations can you define?
| | |
| --- | --- |
| Apothecary | One who prepares and sells drugs or compounds for medicinal purposes. |
| Chandler | A maker or seller of tallow and wax candles and soaps. |
| Cobbler | (No, you don't eat this!!) A mender or maker of shoes and often other leather goods. A clumsy workman. |
| Collier | One that produces charcoal; a coal miner. |
| Comptometer Operator | An operator of a calculating machine, having no paper tape. |
| Cooper | One that makes or repairs wooden casks or tubs. |
| Docent | A person who conducts groups through a museum or art gallery. |
| Drayman | One whose works is hauling by dray. |
| Gandy Dancer | A laborer in a railroad section gang. |
| Haberdasher | A dealer in small wares or notions; a dealer in men's furnishings. |
| Hangman | One who hangs a condemned person. |
| Huckster | A peddler; one who produces advertising material for commercial clients, especially the media. |
| Janitor | One who keeps the premises of an apartment, office, or other building clean, tends the heating system, and makes minor repairs. |
| Jester | One who provokes laughter. |
| Lackey | A liveried retainer; a footman; a servile follower. |
| Linotype Operator | One who uses a keyboard-operated typesetting machine that involves circulating-matrices and produces each line of type in the form of a metal slug. |
| Lithographer | One who produces, copies, or portrays a print from a plane surface (as a smooth stone or metal plate) on which the image to be printed is ink-receptive and the blank area ink-repellent. |
| Milliner | One who designs, makes, trims, or sells women's hats. |
| Pugilist | A professional boxer. |
| Schoolmarm | A female schoolteacher, especially in rural or small-town school. |
| Scribe | An official or public secretary or clerk; a copier of manuscripts. |
| Stenographer | A writer of shorthand; one employed chiefly to take and transcribe dictation |
| Stevedore | One who works at or is responsible for loading and unloading ships in port. |
| Subaltern | A person holding a subordinate position |
| Teamster | One who drives a team or motor truck. |
| Telegrapher / telegraphist | One who operates an apparatus for communication at a distance by coded signals, using Morse code. |
| Tinker | An itinerant mender of household utensils. |
| Tinner | A tin miner, or tinsmith. |
| Yeoman | A small farmer who cultivates his own land. |
---
"OLD MISSION CHURCH NO LONGER LEAVES WORSHIPERS SHIVERING"
By Dave Guzniczak, published in Country Lines, March/April, 1998 -
"When Father Albert Langheim came to Cross Village four years ago, he joined a Catholic parish with a 300-year tradition. The good-natured Franciscan priest is a history buff, so Holy Cross Parish was a perfect place for him.
"But with the old Catholic mission came an over 100-year old church building in need of major energy improvements. The old building was "holey" as well. The priest and his parishioners often kept their hats and gloves on during mass. "It would get down to 58 degrees in there," says Father Al. "It was too cold to pray."
"And it probably felt colder than that because the wind would whistle through openings in the large stained glass windows where the old panes had cracked or separated from the frame.
"............... .Father Al is showing his 64 parishioners that their decision to invest in the old church is reaping other benefits besides providing a warm and comfortable place to worship. Just by covering the windows with plastic, they saved enough the first winter to more than cover the $150 cost. With improvements made so far, the parish saves up to $800 a year.
"In the last three years, a new furnace was installed, windows on one side of the church were repaired and resealed, a new insulated roof was put on, and insulation was added to keep heat from escaping into the belfry and second floor. Part of the old heating system that was replaced was a small propane furnace that had to be turned up at noon Friday in order for the church to warm up in time for Saturday's 5:30 p.m. mass service.
"This small, remote lakeshore region on northern Lake Michigan has been continuously inhabited since the Odawa (Ottawa) Indians and Jesuit priests first settled here over 300 years ago. Father Al believes that early settlers stayed because the area has a warmer climate and longer growing season than most places in northern Michigan.
"The Odawas, which means "traders", were making and trading their own corn flakes long before Kellogg became a household name. With its level land, good topsoil and lake-influenced moderate climate. Cross Village was an ideal area for them to grow corn. The Great Lakes provided transportation routes for canoes loaded with trading goods and for hauling a large altar across the ice from Mackinac Island to Cross Village, where it is still used today in the Holy Cross Church.
"Father Al's local written history is contained in a publication titles, "The Catholic Mission at Cross Village: The First 200 years. "
---
CRIMINAL RECORDS PROVIDE MORE INFORMATION THAN OTHER RECORDS
By Vesta-Nadine Severs, Publ. Antique Week, Sept. 20, 1999 -
"Serious genealogists are prepared to find the scoundrel as well as the royalty in their family lines. The family may not record these happenings and you only hear by word of mouth someone being in jail as I heard from my grandfather about his uncles. His stories about these men's activities were interesting. I didn't pursue documenting them until recently.
"My job sent me to Jefferson City, Missouri, for training, and while there, during off hours, I toured several historical sites. One place had books and I noticed one about the state penitentiary. I didn't find any mention about these great-great-uncles. One was supposed to have been the first to break out of the state penitentiary. I thought it might be something to work on when I caught up with other projects.
"While in the Genealogy Friends of the Library, Neosho, Missouri, I went through their copy about holdings in the Mid-Continent Public Library at Independence. Low and behold! I noticed there was, on micro-film, listings of inmates incarcerated in the Missouri State Penitentiary during the 1800s. For the nominal fee of $1.50, they sent two rolls of film for me to view at the library.
"Just one look made me nearly swoon. I certainly wasn't expecting the wealth of information which was given on each person. Documentation spread across two ledger sheets for each individual. And the first roll I view was 97% readable in clear hand writing. Here's a list of column headings:
"First was a docket number, i.e. #6509, followed by the individual's Name, Age, Nativity (State only), Trade, Height, Shoe Size, Hair, Eyes, Complexion, Whiskers Worn, Religion, Habits of Life (temperate or intemperate were the two notations). Education, Former imprisonment. Description (whether married or single, all scars and locations, weight). Charge (initials were used for Pled Guilty [P.G.] and Trial Continued [T.C." Term (how long); County (where the court was held); Term of Court; When Received [at the penitentiary]; Expiration of Sentence (divided into Full Time and Three Quarter Time); and Discharged.
"Most of these are self-explanatory, however, the Expiration of Sentence giving the two dates showed how soon the person could get out on Three Quarter Time, which was 6 months early. (No plea bargaining here!) When the person was discharged, if it was the Three Quarter Time, it so stated. Sometimes the Governor pardoned the individual and it's so noted.
"This rich amount of information caused me to wish marriage licenses required more pertinent information, such as height and hair/eyes coloring. That would be interesting information to have, as well as nativity locations for both parties? And most importantly, legible penmanship!
---
MICHIGAN "FIRSTS":
The founding of Detroit's first church, St. Anne's dates from the first observance of St. Anne's Day by Cadillac's company on July 26, 1701.
In 1848 the first bathtub was installed in Detroit.
James Vernor and Company was established in 1866 when Mr. Vernor concocted and sold his first ginger ale at his drug store.
The first deposit of solid rock salt in Michigan was discovered in Marine City in 1882.
Michigan takes first place in fresh water coastline, having more than any other state.
The first mission settled in Michigan was at Sault Ste. Mane, established by Father Jacques Marquette in 1668. Sault Ste. Mane is thus considered to be the oldest European settlement in Michigan and the Midwest.
---
CHURCH OF JESUS CHRIST OF LATTER DAY SAINTS,
600 N. Elm, Gaylord, Michigan 49735
Hours for this new facility which opened in June, 2000 are as follows:
Tuesday 6:30 - 9:00 p.m.
Wednesday 9:00 a.m. - 1:00 p.m.
Friday 9:00 a.m.-1:00 p.m.
---
DATING TOMBSTONES
One way to help find the era your ancestor was buried is to examine the material from which the tombstone is made.
If your ancestor has a stone made of slate or common fieldstone (except wood used by pioneers), chances are that the stone dates from 1796 - 1830;
If the stone is flat-topped hard marble, dates are about 1830 - 1849;
If the "mystery" stone is round or pointed soft marble with cursive inscriptions, look for a date of 1845-1868;
Masonic four-sided stones began in 1850 and are still in use today;
Pylons, columns and all exotic-style monuments are usually dated 1860 - 1900;
Zinc monuments date from 1870 - 1900;
Granite, now common, came into use about 1900.
If the writing is too faded to read, use a 75-watt black light bulb in any lamp that casts light directly on the written message. The writing will miraculously appear.
For more tombstone information, contact