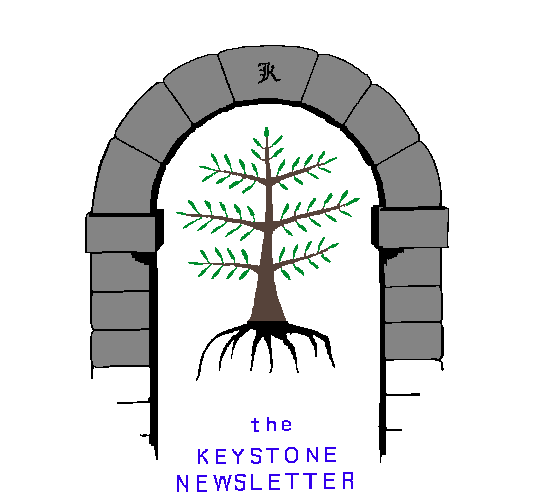 Gaylord Fact Finders Genealogical Society
P.O. Box 1524
Gaylord, Michigan 49734
Volume 15, Number 3 January, 2002
Officers for 1999-2000:
Committees:
President
Donna Marrs
Obituaries/Vital Records
Donna Marrs
Vice President
Patricia Moehring
Membership
Patricia Moehring
Recording Secretary
Mary "Dell" Krueger
Social
Patricia Moehring
Corresp. Secretary
Donna Marrs
Newsletter
Donna Marrs
Treasurer
Jackie Skinner
Patricia Moehring
Programs:
Past-President
Uilani Clifton
Inter-Society Liaison
Donna Marrs
MGC Delegates
Donna Marrs
These officers and Past-President comprise our executive board.
Janet and Don Rechlin
Publications
Sue Giessel
Historian
Pat Moehring
---
Publisher of "The Keystone" is the Gaylord Fact Finders Genealogical Society, a non-profit organization. Publication is in January, April, July, and October.
Membership dues are $10.00 per individual (or $ 12.00 per family), and are due by the May meeting each year. If the dues have not received, that member will not receive the July issue of "The Keystone." Regular meetings are held at 7:00 p.m. on the third Wednesday of each month (August - November, and March - June) at the Family History Center, 600 N. Elm, Gaylord, Michigan.
Correspondence should be sent to the address shown at the top.
This issue includes a short family history, advice to a bride, female nick-names, the continuation of an early pioneer's recollection of George A. Menzies, and up-coming events.
---
Library Corner

THROUGH THE EYES OF YOUR ANCESTORS Call #929.1 Tay
By Suzanne Hilton
(from dust cover)
"One of my immigrant ancestors owned a dog called "Little Watch" who kept him company on his travels across the frontier. Other family members related how animals on the farm doubled as companions. An aunt showed me a photograph of her riding in a wagon pulled by a goat. Her sister told me how one of the family dogs was related to Fala, President Roosevelt's dog. She even wrote him a letter and enclosed a picture of her dog.
"Have you ever looked at an old black and white photograph of a relative long since dead and possibly forgotten, and wondered what his or her life might have been like? What if you could find out? This book can help you uncover the secrets and adventures of your own family in the "personal detective story" that is genealogy.
"Based on instruction and workshops that Maureen Taylor has conducted over the years. Through the Eyes of Your Ancestors presents an easy-to-follow approach to the fascinating hobby of genealogy. Each chapter begins with an anecdote, enticing the young reader with what they might find hidden in their ancestors;' pasts. All varieties of families are represented here---extended, adoptive, and blended, from every race and culture---with emphasis on the unique role that each has played in the founding and development of the United States.
"From lists of helpful organizations to suggested interview questions, state-of-the-art computer programs to Web sites, this guide will help children become family historians.

ASK YOUR LIBRARY ABOUT ACCESSING "AncestryPlus"
AT HOME-----------------------------IT'S FREE!!!!
---
MY FAMILY
A short family history
By "Dell" Krueger

Not having met my dad's family until I was 26, I have enjoyed looking into their past for a number of reasons.
It has enabled me to meet and talk to all kinds of people and family. I have traveled to Wisconsin to question an uncle. Then I have traveled to Mississippi, Arkansas, Missouri, and South Carolina, it is always exciting to find a piece of information after a lot of looking and researching. This Spring while spending 3 days in Union, South Carolina's library, I met a man that was able to take us to my 4th Great Grandfather and Mother's grave, that is located on private property.
Also, I have done a lot of my work on my McClintock side of the family in Indiana that I am more familiar with. I have a mystery on both sides that I am working on. Why is my great grandmother buried in Mississippi and South Carolina? Also what happened to my grandfather McClintock's brother that disappeared in the 1920's?
(Editor's note - these short stories are being contributed by members of our genealogical
society for publication here. IF ANYONE HAS NOT YET CONTRIBUTED THEIR
STORIES, PLEASE SEND THEM TO PRESIDENT, DONNA MARRS, OR TO THE
SOCIETY.)
The year is 1912—ADVICE FROM A KENTUCKY GRAND-MOTHER TO NEW BRIDE:
1. Build fire in backyard to heat kettle of rain water.
2. Set tubs so smoke wont blow in eyes if wind is pert.
3. Shave one hole cake of lie soap in bilin water.
4. Sort things, make 3 piles. 1 pile white, 1 pile colored, I pile work britches and rags.
5. To make starch, stir flour in cool water to smooth, then thin down with bilin water.
6. Take white things, rub dirty spots on board, scrub hard, and then bile. Rub colored, don't bile, just rinch and starch.
7. Take things out of kittle with broomstick handle, then rinch and starch.
8. Hang old rags on fence.
9. Spread tea towels on grass.
10. Pore rinch water in flower bed.
11. Scrub porch with hot soapy water.
12. Turn tubs upside down.
13. Go put on clean dress, smooth hair with hair combs. Brew cup of tea, sit and rock a spell and count your blessings.
---
NICKNAMES by Christine Rose, C.G.
(From Genealogical Helper, Mar-Apr., 1987)

FEMALES:
Abigail
Abby, Gail, Nabby
Jessica
Jessie
Addy
See Adelaid, Adeline, or any name starting with "Ad"
Jerry
See Geraldine
Adelaide
Addy, Addie, Dell, Delia, Heddi
Jessie
See Jane, Janet, Jessica
Adeline
Addy
Jill
See Julia
Agatha
Aggy
Jo
See Josephine
Aggy
See Augusta, or any name starting
With "ag"
Joanna/Johannal
Joan, Jody, Hannah
Agnes
Aggy, Inez, Nessa
Joey
See Josephine
Aileen
Allie, Lena
Josephine
Jo, Joey, Josey,
Fina
Alberta
Allie, Bert, Bertie
Joyce
Joy
Alexandra
Alex, Alla, Sandy
Juanita
Nita
Alfreda
Aify, Fredda, Freddy, Frieda
Julia
Jill, Julie
Alice
Ailie, Elsie, Lisa
Katherine
See Catherine
Alla
See Alexandra
Kathleen
See Katherine/Catherine
Allie
See Aileen or any name starting with "al"
Kit
See Catherine
Almena
Allie, Mena
Lanna
See Eleanor
Amanda
Manda, Mandy
Lavinia
Viney
Amelia
Emily, Mel, Millie
Lena
See any name ending with"leen,""lina," or "line"
Ann/Anna
Annie, Nan, Nanny, Nana, Nancy
Letitia
Lettie, Lettice, Titia, Tish
Antonia/Antoinette
Nette, Tony
Lil
See Delilah, Lillian, Mildred, Melissa
Arabella
Ara, Bella
Lillian
Lil, Lilly, Lolly
Arlene
Lana
Lina
Any name ending with "lena," "leen,""lma," or "line"
Armilda
Milly
Linda/Lindy
See Belinda, Melinda
Asenath
Assene, Sene
Lisa
See Alica, Melissa
Augusta/Augustina
Aggy, Gussie, Tina
Lois
See Heloise, Louise
Barbara
Bab, Babs, Barby, Bobbie
Lola
See Delores
Beatrice
Bea, Trisha, Trix, Trixie
Lolly
See Lillian
Becky
See Rebecca
Loretta
Etta, Lome, Retta
Belinda
Belle, Linda
Loiraine
Lorrie
Belle/Bella
See Arabella, Belinda, Isabelle, or any name starting with "Bel" or ending with "belle/bella"
Lotta/Lotty
See Charlotte
Bert/Bertie
See Alberta and Bertha
Louise
Eliza, Lois, Lou
Bertha
Birdie, Bert, Bertie
Lucille
Cille, Lucy
Bess/Bessie
See Elizabeth
Lucinda
Cindy, Lucy
Beth
See Elizabeth
Lucy
See Lucille, Lucinda
Biddie
See Bridget, Obediance
Luella
Ella, Lu, Lula
Birdie
See Bertha
Lynn
Any name ending with "lene,"
"lina," "line," or "lyn"
Bobbie
See Barbara, Roberta
Mabel
See Mehitable
Bridget
Biddy, Bridie
Madeline
Lena, Maddy, Madge,
Maggie, Maud
Camille
Cammy, Millie
Madge
See Madeline, Margaret
Caroline/
Carolyn
Carol, Carrie, Cassie, Lynn
Maggie
See Margaret
Cassandra
Cassie
Manda/Mandy
See Amanda, Miranda
Catherine
Cathy, Katie, Kay, Kit, Kittie, Trina
Margaret/Margarite
Peg, Peggie, Rita, sometimes Marjery, Marge
Cathleen
See Catherine
Martha
Mart, Mattie, Patsy, Patty, Marty
Cecelia
Celia, Cissy
Mary
Mae, Mamie, Mitzi, Molly, Polly
Charlotte
Char, Lotta, Lotty
Matilda
Matty, Maud, Tillie
Chloe
Clo
Matty
See Matilda
Christine/
Christiana/
Christina
Chris, Crissy, Christy, Tina
Maud
See Madeline, Matilda
Cilla
See Priscilla, or any name ending with "cilla/cella"
Medora
Dora
Cinderella
Cindy
Mehitable
Hetty, Hhly, Mabel, Mitty
Cindy
See Cinderella, Cynthia, Lucinda
Mel
See Amelia, Melinda, Melissa or any name starting, or containing (mel)
Cissy
Cecilia, or any name with a "sis" sound
Melinda
Linda, Lindy, Mel
Clara
See Calrinda, Clarissa
Melissa
Lisa, Mel, Milly, Missy
Clarinda
Clara
Mena
See Almena
Clarissa
Clara, Cissy
Michelle
See Mickey
Clo
See Chloe
Midge
See Margaret
Constance
Connie
Mildred
Milly
Cordelia
Cordy, Delia
Millie/Milly
See Amelia, Armilda, Camille, Emily
Cornelia
Corny, Nelle, Nelly
Minerva
Minnie
Cynthia
Cindy
Mira
See Elmira
Daisy
See Margaret
Miranda
Mandy, Mira
Deborah
Deb, Debby
Miriam
Mitzi
Delia
See Cordelia, Fedilia, or any name ending with "delia"
Missy
See Melissa
Delilah
Dell, Della, Lil, Lila
Mitty
See Mehitabel
Dell/Della
See Adelaide, Delilah
Mitzi
Mary, Miriam
Delores
Lola
Nabby
See Abigail
Dina
See Geraldine
Nan
See Nancy, Hannah, Ann
Dolly
See Dorothy
Nancy
Nan, Ann
Dora
See Isadore, Medora, or any name containing "Dora"
Natalie
Nettie
Dorothy
Dolly, Dot, Dotha, Dotty
Nessa
See Agnes
Edith
Edie
Netta/Nettie
See Natailie, Henrietta, all names ending with "netta"
Eleanor
Elaine, Ellen, Ellie, Lanna,
Nellie, Nora
Nib
See Isabella
Eliza
See Elizabeth, Louise
Nell/Nelly
See Cornelia, Eleanor
Elizabeth
Bess, Bessie, Beth, Betsy,
Betty, Eliza, Libby, Lisa,
Liza, Liz
Nita
Juanita
Ella/Ellie
See Eleanor, Gabriella, Helen, Luella, or any
name starting with "el" or ending with "el/ella"
Nora
See Elanor
Ellen
See Eleanor, Helen
Obedience
Biddie, Obed
Elmira
Mira
Pamela
Pam
Elouise
See Heloise
Pat
See Patricia, Patience
Elsie
See Alice
Patience
Pat, Patty
Emily
Emmy, Millie, See Amelia, Emeline
Patricia
Pat, Patsy, Patty, Tricia
Essy
Any name starting with "Es"
Patsy
See Martha
Etta
Any name ending with "etta"
Posthuma
Humey
Emelin
Em, Emma, Emily
Priscilla
Cilla, Prissy
Estelle
Essy, Stella
Prudence
Prudy, Prue
Esther
See Hester
Rebecca
Becky, Reba
Eustaci
Stacia, Stacey
Retta
See Loretta
Faith
Fay
Rina
See Irene
Fanny
See Frances
Rita
See Martgarita
Fay
See Faith
Roberta
Bert, Bobbie, Robbie
Fidelia
Delia
Rona/Ronnie
See Veronica
Fina
See Josephine
Sadie
See Sarah
Florence
Flo, Flora, Floss, Flossie
Sandy
See Alexandra
Frances
Franny, Fran, Frankie, Flossie
Sally
See Sarah
Freda/Freddy/
Frieda
See Alfreda
Sarah
Sal, Sadie
Fronny
See Veronica
Sene
Asenath
Gabrielle
Ella, Gabbie
Sissy
See Cissy
Gail
See Abigail
Stacia/Stacey
See Eustacia
Geraldine
Dina, Gerrie, Jen
Stella
See Estelle
Gertrude
Gert, Gertie, Trudy
Submit
Mitty
Ginger/Ginny
See Virginia
Susan/Susannah
Hannah, Sue, Sukey, Susie
Hank
See Henrietta
Tabitha
Tabby
Hannah
Nan, Nanny, See Nancy
Theresa
Terry, Tessa, Tessie, Thursa, Tracy
Harriet
Hat, Hattie
Tibbie
See Isabella
Heidi
Adelaide
Tilly
See Matilda
Helen(a)
Ellen, Lena
Tina
Any name ending in "tine," or "tina"
Hejoise
Eloise, Lois
Tish/Titia
See Letitia
Henrietta
Etta, Etty, Hank, Nettie
Tony
See Antonia/Antoinette
Hester
Ester, Hessy, Hetty
Tracy
See Theresa
Ib
See Isabella
Trina
See Catherine
Inez
See Agnes
Tricia/Trisha/Trix/Trixie
See Beatrice, Patricia
Irene
Rena
Trudy
See Gertrude
Isabella
Bella, Belle, Ib, Issy, Nib, Tibbie
Veronica
Franky, Frony, Ronnie, Ronna, Vonnie
Isadora
Dora, Issy
Victoria
Vicki
Issy
See Isabella, Isadora, any name starting with "is"
Viney
See Levinia
Jane
Janie, Jessie, see Virginia
Virginia
Ginger, Ginny, Jane, Jennie
Janet
Jessie
Vonnie
See Veronica
Jennie
See Virginia
Wendy
See Gwendolyn
Jessica
Jessie
Wilhelmina
Mina, Willie, Wilma, Minnie
(Men's nicknames in next issue)
Winifred
Winnie, Winnet
---
J
T
N
I
R
O
F
I
W
L
F
O
K
Y
L
S

Foreign Currencies:

M
R
N
T
U
E
R
H
M
S
R
P
T
S
C
Y
A
E
F
P
C
E
A
D
O
U
Z
B
J
U
Dinar
Escudo
Forint
Franc
Guilder
Koruna
Krona
Krone
Mark
Markka
Peseta
Pound
Schilling
Zloty
R
E
D
L
I
U
G
O
N
B
N
H
C
V
D
S
N
A
C
L
O
F
A
U
C
A
K
L
E
O
C
O
B
Z
E
R
N
X
O
G
M
R
F
A
E
H
R
L
Y
I
P
A
T
P
N
P
A
W
H
I
I
K
R
A
M
I
J
U
G
K
V
U
N
F
P

To Which Foreign Country Does Each Currency Belong?

L
I
N
G
U
A
H
R
O
C
I
H
Y
E
V
L
E
P
T
O
L
R
D
A
D
Q
O
S
D
T
Austria
Czechoslovakia
Denmark
Finland
France
Germany
Great Britain
Hungary
Iceland
Libya
Netherlands
Poland
Portugal
Spain
I
P
R
E
Q
U
C
K
V
X
U
E
G
B
J
N
R
U
X
I
M
E
G
K
E
T
Z
D
I
M
G
O
N
U
F
E
H
I
M
A
I
R
J
C
W
S
M
D
Y
T
O
L
Z
N
K
Q
X
L
A
M
EARLY PIONEER RECOLLECTIONS by GEORGE A. MENZIES (Cont'd.)
The railroad continued to work northward from Gaylord. It was a slow process, as it was built by hand and hard work. There was a demand for wood, as the railroad used wood to fire the engine. Father and Mr. Sweet and Ben Marlett acquired a wood machine and set it up where Vanderbilt is now. They were paid 75 cents per cord for the best wood which was piled on the railroad right-of-way.
Our first means of transportation was by an ox team named Duke and Dime. Father was quite progressive so he soon acquired a team of horses. He purchased them from Freeman Wells who at that time had a livery barn in Gaylord.
There was a sort of store and a post office at Logan, east of the overhead bridge, six miles north of Gaylord. It was owned by Mr.Lantz. That was the first business place in that locality. The next was at Benyville, operated by Berry and Gagnier. They had a store, sawmill and grist mill. The mill was powered with a waterwheel. There was also a building which was used for a school and church. The next store was at Vanderbilt and owned by H. L. Bonner. The first Sunday School in Vanderbilt was held in the railroad depot.
There were numerous business places established in Vanderbilt at about this time when it was finally decided that the railroad would go there instead of through Berryville. About this time the doctors in Vanderbilt were Dr. Peckham, Dr. Caster and Dr. Woodruff. This was around 1880.
"I might add that Mother made most of our wearing apparel, even straw hats. She made her own soap and sugar. Dad made our shoes. He had different styles and sizes of lasts. He bought the uppers and wooden pegs. They used tallow candles for light, so most of our living was produced from available natural resources."
(Published in "Northern Star" May 23, 1993)
---
UP-COMING EVENTS
March, 2002
16 Downriver Society Workshop
April, 2002
13 Monroe County Society
May, 2002
14, 15-18 NGS Society, Milwaukee, Wisconsin
August, 2002
7 - 10 FGS Conference, Ontario, Canada
October, 2002
26 Washtenaw Society, featuring Sandra Luebking
---