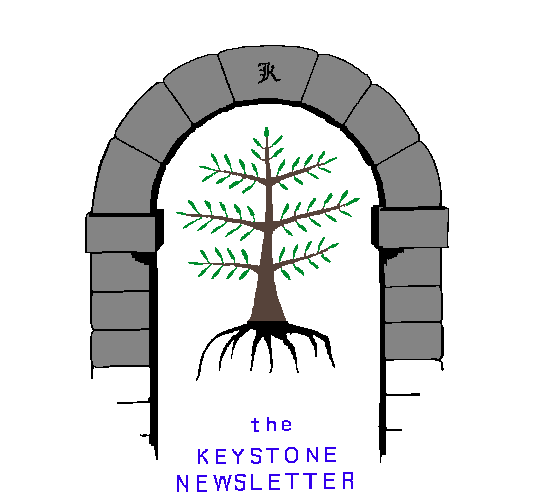 Gaylord Fact Finders Genealogical Society
P.O. Box 1524
Gaylord, Michigan 49734
Volume 14, Number 3 January, 2001
Officers for 1999-2000:
Committees:
President
Donna Marrs
Obituaries/Vital Records
Donna Marrs
Vice President
Patricia Moehring
Marleah Muzyl
Recording Secretary
Mary "Dell" Krueger
Membership
Patricia Moehring
Corresp. Secretary
Donna Marrs
Social
Patricia Moehring
Treasurer
Jackie Skinner
Newsletter
Donna Marrs
Marleah Muzyl
Past-President
Uilani Clifton
Programs:
Inter-Society Liaison
Donna Marrs
These officers and Past-President comprise our executive board.
MGC Delegates
Donna Marrs
Marleah Muzyl
Publications
Sue Giessel
Historian
Pat Moehring
---
Publisher of "The Keystone" is the Gaylord Fact Finders Genealogical Society, a non-profit organization. Publication is in January, April, July, and October.
Membership dues are $10.00 per individual (or $ 12.00 per family), and are due by the May meeting each year. If the dues have not received, that member will not receive the July issue of "The Keystone." Regular meetings are held at 7:00 p.m. on the third Wednesday of each month (August - November, and March - June) at the Otsego County Historical Museum, 320 W. Main, Gaylord. Correspondence should be sent to the address shown at the top.
This issue includes a short family history, a Polish Christmas, a photocopier tip, and begins "Connecticut Towns and their establishment".
---
LIBRARY CORNER
"ONCE UPON A MEMORY" Call 929.2 Ale
By Jean Alessi and Jan Miller
"ONCE UPON A MEMORY" is filled with ideas and techniques to help readers
find the treasures buried in their lives—and in the lives of their ancestors. It includes tips
and guidelines on everything from interviewing today's senior family members to
researching the family tree and writing an interesting family history. The objective?
Creating a living record that will enhance the lives of generations to come.

The book was developed from the authors' work with family groups—children to
parents, grandparents, and great-grandparents—helping them learn how to become
effective family members. Along the Way, Jean Alessi and Jan Miller learned that
understanding their past—their personal and family histories—helped them do a better
job fulfilling their present roles. And it not only made them happier, it even helped many
to perceive themselves as healthier!

Growing with their "students" led them to explore the field of family history. In
the process, they discovered that by encouraging people to explore their roots, preserve
their present, and organize their family history for future family members to enjoy, they
enrich their present lives.

Residents of St. Louis and St. Ann, Missouri, respectively, Jean Alessi and Jan
Miller have used what they have learned from the "life history" class they taught to create
ONCE UPON A MEMORY.
(taken from the book jacket)
---
NATIONAL ARCHIVES FILM RENTAL PROGRAM:
Go to www.nara.gov/genealogy to find out what films are available on the rental
Program. Locate genealogy page, then "On-line information" and scroll down until you
locate the subject that interests you, and get the film and reel number. Then write to
CENSUS MICROFILM RENTAL PROGRAM, BOX 30, ANNAPOLIS, JUNCTION,
MD., 20701, and send your check for $3.50 per film plus $4.00 shipping for 1 - 9 rolls of
film. The films can be mailed to your home, and you are responsible for returning them
by the date specified on the invoice to you.
In this manner, you can take the films to a micro-film reader/printer and get the copies
that you need, instead of paying $1.75 per page as is currently charged by the National
Archives.
---
GENEALOGY WITHOUT DOCUMENTATION IS MYTHOLOGY!!!
---
A short family history
"Alderic Willette"
By Janet Willette Rechlin
"One hundred and ten years ago, my great-uncle was killed in a gruesome sawmill
accident in St. Helen, MI at the age of 14.
"Alderic was born December 9, 1874 in Grenville, Quebec, and came with his
parents, one brother (my grandfather, Henry) and two sisters to the St. Helen, MI area
around 1886. He was working at the Henry Stephens Lumber Mill on April 23, 1889
when the accident occurred. The following account of the accident was found in The
Roscommon News for April 26, 1889 under the headline A Boy Killed ~ Dick Willette
Caught in a Planing Mill Belt at St. Helen:
"Tuesday afternoon the basement of the planing-mill of Henry Stephens & Co. at
St. Helen was the scene of a shocking fatal accident. A boy named Dick
Willette, aged about 14 years, employed in the planing mill was caught in the belt
of the grindstone and before the machinery could be stopped was fearfully and
fatally mangled. The left leg was torn completely off above the knee and his
skull was fractured. He was unconscious when picked up and died in about an
hour without once regaining consciousness. Justice DeWaele held an inquest and
it was developed that young Willette went in the basement of the mill where all
the pulleys and belts are, needlessly, as he had no business there and it was
strictly forbidden for boys to go in there. The jury returned a verdict that the
deceased came to his death through his own carelessness and that no blame
whatever can be attached to the firm or employees of the mill."
"My personal believe is that the person who was sharpening tools on the
grindstone told him to go to the basement and stop the machine by shoving the belt off.
His brother, Alva Willette, told me that Alderic was trying to shove a belt off with his
foot when he became entangled and was killed.

"Henry Stephens & Co. had the largest and best equipped lumber mills in the
state. They employed an average of four thousand men and also built many miles of
logging railway through their property. At the mills in St. Helen alone, more than a
billion feet of lumber were manufactured within a period of fourteen years. Henry
Stephens was well respected. The mill in St. Helen was near Lake St. Helen and the
tributary streams emptied into Lake Huron through the south branch of the AuSable
River. It closed in 1894.

"So it is not surprising that the company or its employees would not be found at
fault. Great-grandfather Louios Willette's diary states, "Alderic died the 23th of April on
a Tuesday at 5:00 in the afternoon 1889." There is no record of his death either in
Roscommon County, the State of Michigan or with the churches in West Branch or
Roscommon. Because of the distance from these cities, he was probably buried the next
day without the services of an undertaker or church. It is believed that he is buried
outside of St. Helen in the main cemetery along the railroad tracks.
"In October, 1893, Alderic's father, Louis Ouilette, left St. Helen and moved to
Standish, MI. My grandfather, Henry, then moved to Waters to work in the Stephens
Mills. The census of 1900 shows he was working as a laborer in a sawmill in Otsego
Lake Township. He was 26 and single. On September 24, 1900, he was naturalized a
United States citizen in Otsego County, and by 1905, he was married and living in
Standish." My father, Harry Willette, was born in 1909 in Standish and moved to Detroit
around the age of 16, later meeting and marrying my mother, Angeline Goyer, who was
also born in Standish in 1907. They raised five children in Dearborn Heights, then retired
to Grayling in 1971 where Harry died on March 19, 1974. Angelina celebrated her 92nd
birthday on March 15th. Their daughter, Janet, married Donald Rechlin on January 19,
1968. We lived and raised our three children in Dearborn Heights and retired to Waters
area in 1993.
"So life has a way of coming full circle as I am now living in Northern Michigan,
the area that my great-grandparents came to from Quebec for a better life."
(Editor's Note - these short stories are being contributed by members of our genealogical
society for publication here. IF ANYONE HAS NOT YET CONTRIBUTED THEIR
STORIES, PLEASE SEND THEM TO PRESIDENT, DONNA MARRS, OR TO THE
SOCIETY.)
---
A POLISH CHRISTMAS
(FROM Country Lines Nov.-Dec. 2000)
by Tamara L. Stachowicz
"My in-laws are proud to be 100 percent Polish, second-generation immigrants.
They reside in Jackson, where they each grew up the youngest children in very large
families. Along with a sprinkling of the language, they have kept sacred to their heritage
a few customs that they dust off at holidays. Christmas brings with it several family
rules, seen by children and grandchildren as law.
"First, only imminent death or childbirth should keep you from Holy Mass—over
90 percent of Poland is reported to be Catholic—OR a family gathering to celebrate the
holiday. Second gifts should never out-shine the food. And third, children are always the
highlight of the festivities.
"Polish families, as with many old-world European cultures, maintain that family
is the greatest gift of all. Therefore, the gathering itself is a gift, and a way to honor
parents and elderly relatives. Our family begins to plan several months in advance and
finalizes the date and time to celebrate by November. Traditionally, Polish families
would gather on Christmas Eve to begin the celebration with a meatless meal. However,
as families spread further and further over the lands, most Polish families in the U.S.
compromise and gather at a predetermined date and place to celebrate Christmas.
"This celebration is always set before Christmas. This supper is called "Wigilia"
and means "to watch." Specifically, we are watching and waiting for Jesus' birth.
Traditionally, this supper would begin only with the appearance of the first star in the
night sky. The table is always prepared with one extra plate to represent departed family
members, or so an extra guest can arrive.
"Long before the special day arrives, my mother-in-law arranges with her parish
Priest to purchase a thin, round, flat wafer of bread similar to that used for communion
during mass. This bread, called Oplatek, is still the most important element of the
celebration. It is believed that the sharing of this bread at the wigilia table is a
modification of what was once the sharing of a ritual bread called prodplomyk. My
father-in-law will make a trek down to the European Bakery to pick up a special crusty
rye bread.
"After blessing those gathered, my in-laws will break the Oplatek and share it
with each other. Then, the remainder is broken and shared with all of those present,
while wishing each one fulfillment of their dreams.
"Since we are in essence rolling two celebrations into one, Christmas and
Christmas Eve, our menu will include both meat and meatless dishes. However, true to
our Polish heritage, we will always have a traditional Polish dish that includes fresh
Polish sausage, sauerkraut, and small, simple dumplings called Uszka. Along with our
family's favored relish tray, complete with pickled beets and fresh vegetables, we have
two kinds of potatoes, pirogues, scalloped corn, and green bean casserole. For good luck
in the coming year, efforts are made to have an odd number of dishes. This custom has
turned into good-natured jockeying to determine how many desserts to consider as part of
the wigilia! If we have 12 dishes for supper, we consider all of the pies as one dish for
dessert; if we only have 11 dishes, we make the pies into two: pumpkin and apple.
"At this point, we have usually only been marginally successful in keeping the
children from digging under Grandma's tree. Although a concession to the children and
grandchildren, the tree is not the focal point of the Christmas decorations—the Nativity
scene is. The baby Jesus has been lovingly carried around and kissed by chubby hands
and sweet lips for three generations. It is a special, favorite part of the celebration.
"Years ago, we passed around gifts in an orderly fashion, watching one another's
faces as presents were opened and gifts admired. This organized chaos has long been
given up for excitement-filled squealing and ripping as wrapping paper and ribbons fly
and aunts and uncles ensure that the recipients know who gave what gifts.
"After playing cards and games well into the night and gorging on leftovers, we
weary travelers prepare for bed. Grandma and Grandpa help us tuck pillows under
sleeping children, unfold mattresses and sheets, and turn on the night-lights. My husband
and I fall exhausted onto the couch and chat quietly while the Christmas lights blink.
"Wesolych Swiat Bozego Narodzenia, " whispers mother-in-law, "Merry Christmas."
---
ANCESTRY QUICK TIP
While reading microfilm and attempting to get a copy, the following tip was overheard:
If you are attempting to make a photocopy and the microfilm is very light, you are
probably inclined to move the copier setting to "darker," thinking that this will improve
the quality of your copy. The likely result is that the copy is not any better. The trick is
to move the copier setting farther down to "lighter," which actually lightens the
background of the microfilm and makes the print appear darker.
This idea has been tried, and proven, and is, therefore recommended to others.
---
The men in my life!!!

My Dear Friends:
I have become 71 since I saw you last, and a few changes have come into my life since
then. Frankly, I have become quite a frivolous old gal! I am seeing five gentlemen every
day: As soon as I wake up. Will Power helps me get out of bed. Then he leaves and I go
to see John, then Charley Horse comes along, and when he is here, he takes a lot of my
time and attention. When he leaves, Arthur Ritis shows up and stays the rest of the day.
He doesn't like to stay in one place very long, so he takes me from joint to joint. After
such a busy day. I'm really tired and glad to go to bed with Ben Gay. What A Life!!!

(From Michigan Teamsters Retirees Club newsletter)
---
NEW HEAD LIBRARIAN AT GAYLORD FAMILY HISTORY CENTER
As some of you have heard, Joy Young has moved from Gaylord, because of a
job transfer for her husband. The new head librarian is Judy Binkley, who lives outside
of Vienna Corners. Her address is P.0. Box 823, Lewiston, Michigan 49756, phone
number 989-786-3133, e-mail: alma56@i2k.net
She has taught genealogy for several years in the Dearborn area, and has agreed to
speak at our up-coming work-shop on May 19, 2001.
She also wants to get classes started in the schools.
---
CONNECTICUT TOWNS AND THEIR ESTABLISHMENT
(From Connecticut Nutmegger, Vol 18 #l, June, 1985)
TOWN
YEAR
PARENT TOWN
COUNTY
Andover
1848
Coventry, Hebron
Tolland
Ansonia
1889
Derby
New Haven
Ashford
1714
Windham
Avon
1810
Farmington
Hartford
Barkhamsted
1779
Litchfield
Beacon Falls
1871
Bethany, Oxford, Seymour, Naunatuck
New Haven
Berlin
1785
Farmington, Wethersfield, Middletown
Hartford
Bethany
1832
Woodbridge
New Haven
Bethel
1855
Danbury
Fairfield
Bethlehem
1787
Woodbury
Litchfield
Bloomfield
1835
Windsor, Sirnsbury, Farmington
Hartford
Bolton
1720
Tolland
Borrah
1786
Norwich
New London
Branford
1685
New Haven
New Haven
Bridgeport
1821
Stratford, Fairfield
Fairfield
Bridgewater
1856
New Milford
Litchfield
Bristol
1785
Farmington
Hartford
Brookfield
1788
Danbury, New Milford, Newtown
Fairfield
Brooklyn
1786
Pomfret, Canterbury
Windham
Burlington
1806
Bristol
Hartford
Canaan
1739
Litchfield
Canterbury
1703
Plainfield
Windham
Canton
1806
Simsbury
Hartford
Chaplin
1822
Windham., Hampton, Mansfield
Windham
Chatham (See East Hampton)
Cheshire
1780
Wellingford
New Haven
Chester
1836
Sawbrook
Middlesex
Clinton
1838
Killingworth
Middlesex
Colchester
1698
New London
Colebrook
1779
Litchfield
Columbia
1804
Lebanon
Tolland
Cornwall
1741
Litchfield
Coventry
1712
Tolland
Cromwell
1851
Middletown
Middlesex
Danbury
1687
Fairfield
Darien
1820
Stamford
Fairfield
Deep River (Name was Saybrook until 1847)
1635
Middlesex
Derby
1675
New Haven
Durham
1708
Middlesex
Eastford
1847
Ashford
Windham
East Granby
1858
Granby, Windsor Locks
Hartford
East Haddam
1734
Haddam
Middlesex
East Hampton (Name was Chatham until 1915)
1767
Midddletown
Middlesex
East Hartford
1783
Hartford
Hartford
East Haven
1785
New Haven
New Haven
East Lyme
1839
Lyme, Waterford
New London
Easton
1845
Weston
Fairfield
East Windsor
1768
Windsor
Hartford
Ellington
1786
East Windsor
Tolland
Enfield (Part of Massachusetts until 1749)
1683
Hartford
Essex
1852
Saybrook
Middlesex
(Name of town was Old Saybrook 1851-54, when a new town of Old Saybrook was separated from it and the 1852 Old Saybrook changed its name to Essex.)
Fairfield
1639
Fairfield
Farmington
1643
Hartford
Franklin
1786
Norwich
New London
Glastonbury
1690
Wethersfield
Hartford
Goshen
1739
Litchfield
Granby
1786
Simsbury
Hartford
Greenwich (Under jurisdiction of Dutch at New Amsterdam 1642-56)
1865
Stamford
Fairfield
Griswold
1815
Preston
New London
Groton
1705
New London
New London
Guilford
1643
New Haven
Haddam
1668
Middlesex
Hamden
1786
Windham, Pomfret, Brooklyn, Canterbury, Mansfield
Windham
Hartford
1635
Hartford
Hartland
1761
Hartford
Harwinton
1737
Litchfield
Hebron
1708
Tolland
Huntington (see Shelton)
Kent
1739
Litchfield
Killingly
1708
Windham
Killingworth
1667
Middlesex
Lebanon
1700
New London
Ledyard
1836
Groton
New London
Lisbon
1786
Norwich
New London
Litchfield
1719
Litchfield
Lyme
1667
Saybrook
New London
(To be continued in April, 2001 issue)
---
GAYLORD FACT-FINDERS WILL BE SPONSORING A ONE-DAY WORKSHOP on May 19, 2001. Look for more information in the April, 2001 issue, or contact us at our mailing address:

Gaylord Fact Finders Genealogical Society
P.O. Box #1524
Gaylord, MI 49734-5524
Be sure to take advantage if the U.S. Genweb Site, for Otsego County, Michigan. Peggy Pung has posted much information there. www.usgenweb.com