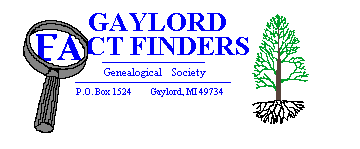 The purpose of the Gaylord Fact Finders is to research family histories and genealogy, and to obtain documents that pertain to our heritage. All documents will be made available for public use.
Other functions include but are not limited to:
The encouragement and assistance of members in genealogical research by exchanging knowledge and help;
The preservation of records of our ancestors;
The compilation and preparation of records;
The sponsorship of genealogical activities;
The publication of The Keystone newspaper quarterly;
The cooperation with all genealogical societies.
Our regular meetings are held on the third Wednesday of each month except July and December at 7:00 P.M. at the Otsego County Library, located at 700 South Otsego Avenue, Gaylord, Michigan.
Membership is open to any person interested in genealogy, for an application form please click here. Dues are due and payable in May, and are $10.00 per individual, or $12.00 per family. For a list of the variety of publications available for sale by the Gaylord Fact Finders Genealogical Society please click here. For a listing of material available at the Court House and the Otsego County Library click here.