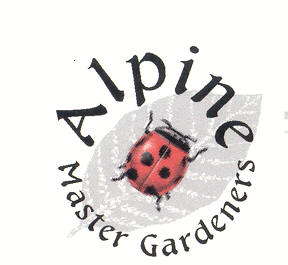 WELCOME!
The Alpine Master Gardeners Association of Otsego County welcomes you to our website! Our association of Master Gardener Volunteers is committed to educating the public in gardening practices through volunteering and community involvement.
2018 Gardening Seminar Handouts: Herbs

Backyard Hop Growing

Recipes of luncheon

Susan Betz handouts

Alana Haley's Herbal Cocktails
Currently, we have 46 paid members in our association. In 2016 alone, our members accumulated over 467 educational hours and contributed over 3,607 volunteer hours throughout our communities.
Follow us on Facebook to see upcoming events: https://www.facebook.com/AlpineMasterGardener/?fref=ts
JOIN US! All certified Master Gardeners are eligible for membership as are former Master Gardeners and those who have taken the class but not finished the volunteer hours.
We invite you to join our association as alumni. Attend meetings, hear speakers on current topics. Call an officer listed below or come to a meeting!
Membership to Alpine Master Gardener Association is $10 due in January. You can pay at the meeting or mail it to the PO Box.
Here's what you can expect at our meetings:
All sorts of gardening tidbits, area events, tips and tricks, speakers, volunteer opportunities, a good sprinkling of laughter, fun, surprises, door-prizes, refreshments, and great gardener-to-gardener conversation and camaraderie. You'll find members who tend perennial gardens, some who grow vegetables, grapes for wine, roses, houseplants, lilies, or Hostas for deer. Others like flower arranging, wildflowers, and water gardens. We have members who compost, grow plants from seed, concoct anti-bug potions, garden organically, and use irrigation and greenhouses.
Some of us are long-time gardeners, some "do just a little" and some are "just getting started". All of us are still learning, and sharing what we've discovered about what's new, what works, and what makes our gardening experiences even richer.
Master Gardeners: Log your education and volunteer hours online before December 31 to maintain your MG status: Https://michigan.volunteersystem.org/UniversalLogin.cfm
2017 AMGA Executive Board members are as follows:
| | |
| --- | --- |
| | Karen Blewett, President: 989-786-7449 |
| | Sharie Plain, Vice-President: 989-213-8180 |
| | Kathy Faba, Treasurer: 586-295-3673 |
| | Rich Faba, Secretary: 586-295-3673 |
| | Rudi & Sandi Edel, County Coordinators: 989-732-1244 |
Our mailing address is AMGA, PO Box 1331, Gaylord, MI 49734.
Our email address is alpinemastergardeners@gmail.com.